Sunday Worship times
8am Formal
9:30am Informal
10:45am Formal
Our regular formal worship times are at 8:00 and 10:45. The service is in the upstairs sanctuary. The congregation uses a traditional bulletin. The music is typically from the ELW Hymnal, and the congregation is accompanied by our organist. Our chancel choir and our bell choir participate in this service.
Our informal service is at 9:30. This service is usually downstairs in Fellowship Hall. The music is contemporary and our pianist accompanies us. The worship service is projected on a power point screen. Once a month on the second Sunday, we encourage our very youngest members to play in our "little ringers" bell program during this service.
Communion is served at each service, every Sunday.
Children & Worship
We want children in worship. Worship is a key piece in the faith formation puzzle. In fact studies tell us that the most accurate indicator of worship participation as an adult includes worship as a child. Look for the busy boxes and children's bulletins. Also, check out the children's worship bags in the entrance.
OPEN TABLE
We welcome all for communion and Holy Eucharist; you do not have to be a church member or a Lutheran to share in Christ's meal.
LGBTQ-friendly community
We welcome all, regardless of religious background, ethnicity, sexual orientation, gender identity, or life circumstances.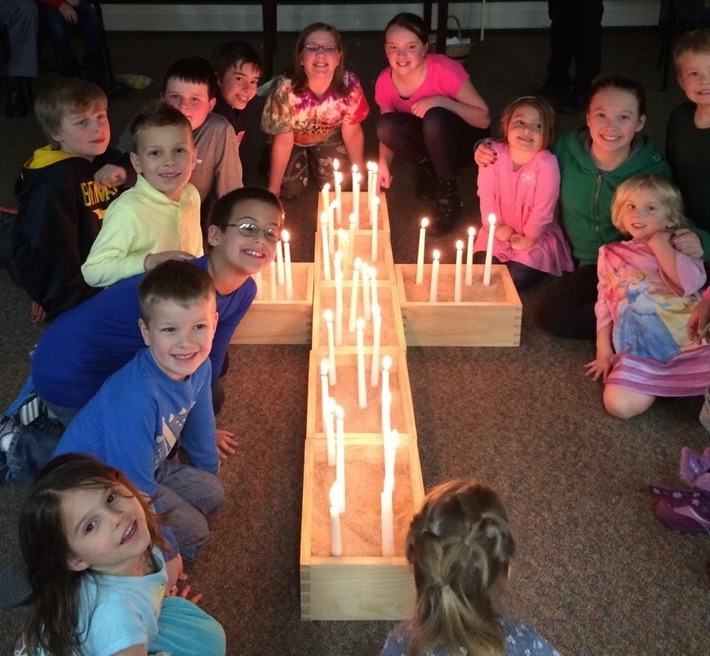 On the first three Wednesdays of each month, join us for FaithQuest, where we share a meal together, students practice for Children's Choir, and students break out into workshops. Middle school students will have Confirmation Class and high school students meet at least once a month for an activities such as game night or a retreat. Follow this link to our Families and FaithQuest page.